When Cliff and Alison Ellwood, owners of Cascade Wonder Marketing, set off in June of 1999 from Australia to attend a conference in Toronto, Canada, little did they know that their lives were about to change dramatically...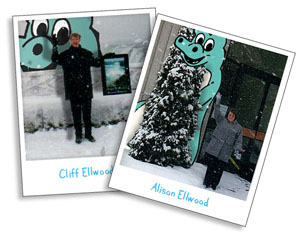 On the 18th of June, they took a day trip to see the wonders of Niagara Falls, lunching at Skylon Tower. With a ½-hour wait for a table in the revolving restaurant, Cliff and Alison made their way to the Observation Deck, to take a photograph of the magnificent Falls, from the 800ft high deck. Cliff's attention was immediately drawn to an angular-shaped jaw on a seeming face in the mist. Thinking little of it, he turned his camera 90º to capture this towering image of the rising mist, as well as trying to incorporate a symmetrical perspective shot of the Falls itself.
Later back in Australia, they had the roll of film developed, and from that moment on their lives have taken a radical turn. There was much surprise, delight and disbelief at seeing, for the first time, this magnificent 1,000ft high smiling Dragon of Mist®, towering peacefully above Niagara Falls. The Ellwood's had it in their hearts to pursue this wonderful gift to its intended conclusion and the journey has thus far led them to many wonderful people.
CASCADE WONDER MARKETING OVERVIEW
CASCADE WONDER MARKETING was established in 1999, with Cliff and Alison Ellwood, as founding Managing Partners.
The business was set up to produce and market a unique range of high quality Giftware/Souvenir items, based on a "one-in-a-trillion never-to-be-repeated" photograph of Niagara Falls, showing clearly our "Dragon of the Mist"®, towering almost 1,000ft above the Falls.
CASCADE WONDER MARKETING, and also the name "Dragon of the Mist"® have been registered in Canada.The photograph itself has been legally certified as being totally genuine, free from any manipulation or computer enhancement, and has been copyrighted worldwide.
CASCADE WONDER MARKETING is an Associate Member of the Niagara Falls Chamber of Commerce.
All Canadian Government taxation, banking, UPC, trade-marking and licensing requirements are in place.
Where possible we have engaged local Canadian manufacturers to produce high-quality prototypes of our range, and we endeavour at all times to produce world standard merchandise, utilizing the latest technology.
Our local representative, G B Gilbert Sales, is based in Mississauga, Ontario. We have engaged local legal and accounting specialists, and will have everything in place to service orders, monitor quality control and deliveries, and intend to have on-line ordering facilities, for your convenience.